Why Bolloré Logistics Vietnam?
COMPANY INTRODUCTION
Bolloré Logistics, as part of the Bollore Transport & Logistics Division; is a global leader in international transport & logistics. Constantly adapting to its customers' changing needs, the company has enriched its expertise to become a tier-one supply chain partner and one of the top 10 transport and logistics companies in the world. Ranked No1 in France, and No5 in Europe, the company operates also the largest integrated logistics network in Africa.
Bolloré Logistics delivers custom-fit solutions with a high added value that draw on an in-depth experience and understanding of different industries, as well as the constant quest for improvement and optimisation that is central to the company's own culture and values.

---
COMPANY WAY
Established originally in HCMC as early as 1989, under the name of TTA and later as SDV Vietnam; Bolloré Logistics Vietnam was a true pioneer in Vietnam. Today our network of offices is capable of providing a full range of transport and logistics services, coordinating your Supply Chain throughout Vietnam with the rest of the world; based on 8 sites, and supported by more than 170 employees.
The strength of the Bolloré Logistics network, combined to adapted services performed by experienced and enthusiastic local teams, is the key of our success. Our know-how, acquired thanks to day to day services provided to importers and exporters, allows us to provide tailor made services to the various industry sectors, such as retail & fashion, high-tech, e'commerce, aerospace, oil & gas, mining, healthcare, and industrial projects.
---
MISSION
Our mission is to support our customers as they grow by providing customised service that allows them to be more competitive on their markets.
---
CORE VALUES
In a complex and unpredictable world, Bolloré Logistics is committed to delivering reliable and flexible innovative and value-creating solutions. Our employees are individually committed to customer satisfaction and act with transparency and respect for agreements.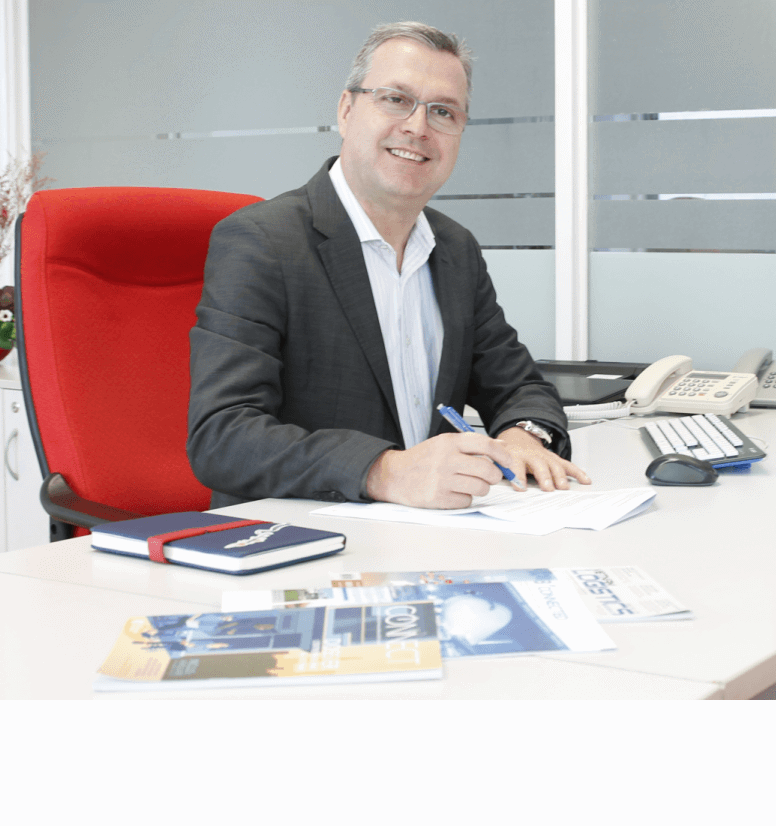 Marc Moeschlin
Managing Director
Bollore Logistics Vietnam, was the first International major logistics company to be active in Vietnam in 1989. We have since grown significantly and offer our full pallet of logistics services in Vietnam, integrated with our global network.
Thanks to our strong growth in the fast expanding Vietnamese market, we are constantly on the look-out for new talents. The selection criteria of our new recruits has changed tremendously of the years, to adapt to the increasing requirements and complexity of our customer's supply chains and also the understanding of the enabling IT technology is a key factor.
The opportunities for further growth are various, from Cross-border trucking to e-commerce logistics or 4PL Supply Chain. I have been in this industry for more than 25 years, and I am still amazed by the constant evolutions, and increased role as a key differentiator that we can bring to our customers by optimizing their supply chains.
Looking at the new technology developments, such a Blockchain, Artificial Intelligence and IoT, we are looking forward to even more exciting times.
Lam Ngoc Hien
Head of Middle Office
Over the years at Bolloré Logistics Vietnam, I have enjoyed great opportunities to work with all diligent and devoted colleagues. We deeply believe that the service excellence rendered by Bollore Logistics Vietnam is only possible thanks to the dedication and pro-activeness of our people, and our human resources are a key factor that help us provide such state of the art operations and sustained high service level to our customers. We are eager to accept new challenges to design better solutions, complete the tasks and achieve the goals. Constant knowledge up-date help us moving forward, and be aware of the latest global trends.
Vuong Chi Dung
HR Manager
We are always making our efforts to create a professional working environment where you can learn from experienced Managers and work with friendly & supportive colleagues. At Bolloré Logistics, we care about your career development and your work-life balance.
Joining Bolloré Logistics Vietnam, you not only feel your passion in work, but also have fun and chances to show your aptitude through our cultural activities. We are glad to welcome you to be part of our family!
Phan Ngoc Hoai
Customer Service Executive
My mission is to provide customers, with secure, innovative and competitive solutions from the time of proposal to the completion of the project. At Bolloré Logistics Vietnam, I have many opportunities to challenge myself in a multinational working environment. My professional skills, knowledge and relationships are built on the satisfaction of our customers, and are possible thanks to the big support provided by my colleagues and managers. I really appreciate the opportunity to work with them, and this family spirit is what makes Bollore Logistics unique.
We are looking for candidates with:
Major related to foreign trade, import-export

Critical thinking and can-do attitude

Proactiveness and a high level of commitment

Good command of English language

Team spirit and communiction skills.
OUR BENEFITS
PAID LEAVE

We offer more paid leave days than required by the law, and you have the possibility to get further leave based on years of service.

BONUS

Various bonus and allowance up to 16th month salary.

HEALTHCARE PLAN

Health and Personal Insurance package for medical examination and treatment in International Clinic.

TRAINING

Professional global training and development programs. Overseas training opportunities.

TRAVEL OPPORTUNITIES

Exciting annual company trip to different destinations (domestics and overseas included).

TEAM ACTIVITIES

Many team building activities per year.
Inside review about Bolloré Logistics Vietnam
Pros: Friendly work environment Good policies to take care employees such as insurance, allowances Ensure employees working in safe condition

Warehouse Logistics Assistant Manager

-

1515989686

Pros: Big company with plenty things to learn